---
Doug Maggard's
BBQ Smoker
(Page 1)


---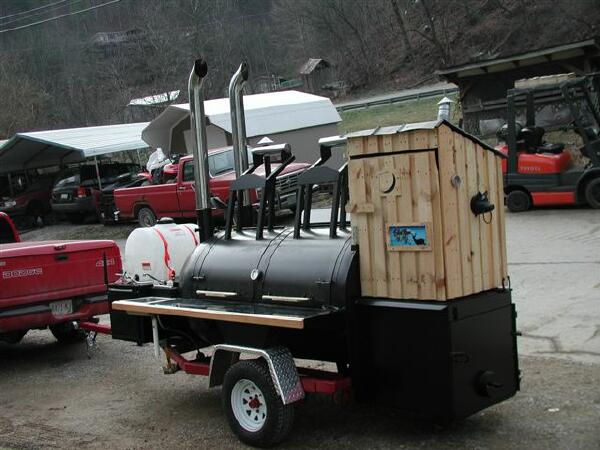 Doug built one very impressive barbeque rig!
---
As he said, it took him about a year to build in his spare time. Some of the major features are illustrated in the photos below.
The firebox includes a propane fired burner which can be used to get the wood or charcoal started for smoking the meat. The burner can also be used to finish off the cooking process after the meats have been wrapped in foil.
Mounted atop the firebox is a warming chamber or oven which is disguised to look like an outhouse. In the bottom of the warming chamber are two bowls which can be filled with water to provide steam to keep everything moist.
The main smoking chamber has two counter-weighted access doors and two stainless steel lower cooking racks, which are mounted on rollers so they can be easily pulled out over the stainless steel work counter. There is also a removable upper cooking rack. Located at the end of the work counter is a stainless steel sink which has hot and cold running water. The unit includes two chrome exhaust smoke stacks.
Located near the front of the unit is the water tank. It sits upon what appears to be a storage box. There is also a fire extinguisher mounted near the front of the trailer. The two propane tanks are also mounted near the front of the unit. Doug included an emergency propane shut-off valve in the outlet piping near the tanks. He also included a safety mechanism for the gas burner of the firebox - the valve cannot be turned on until the firebox door is opened.
On the opposite side from the smoke chamber access doors is a long charcoal grill which was has two adjustable racks. The grill also has a smoke vent stack.
---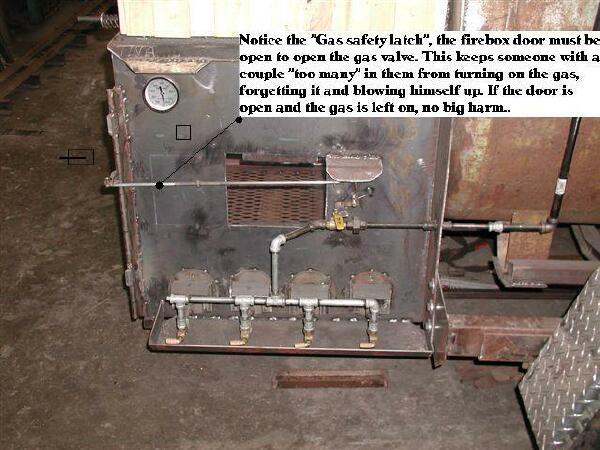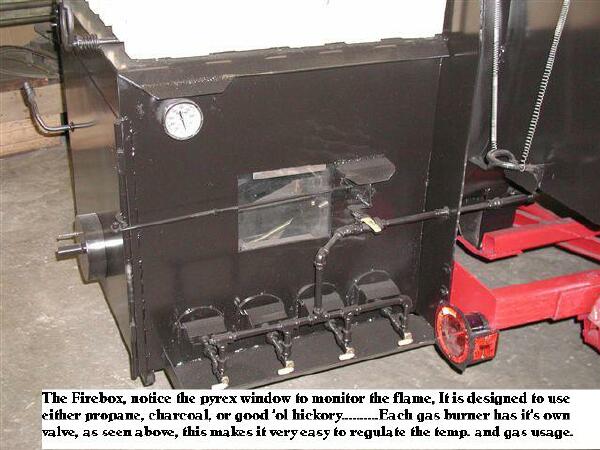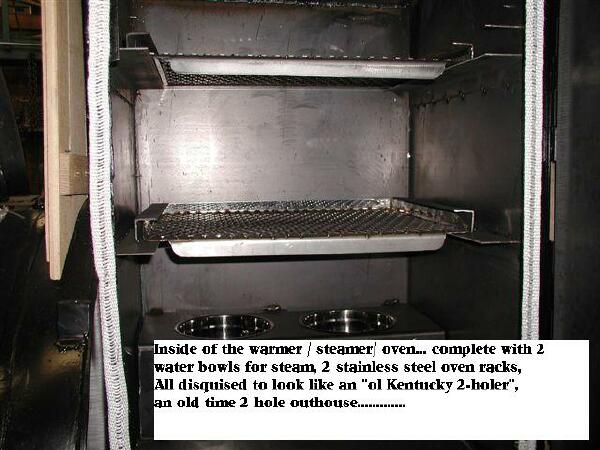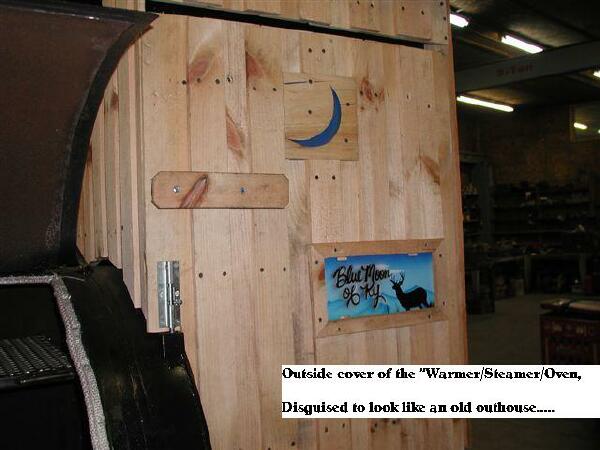 ---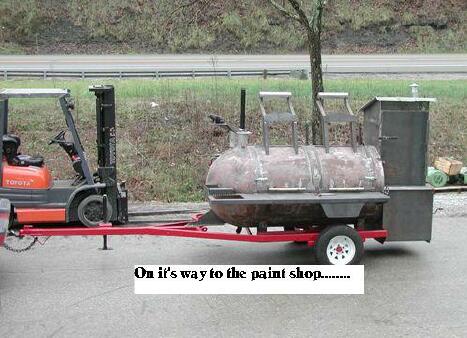 ---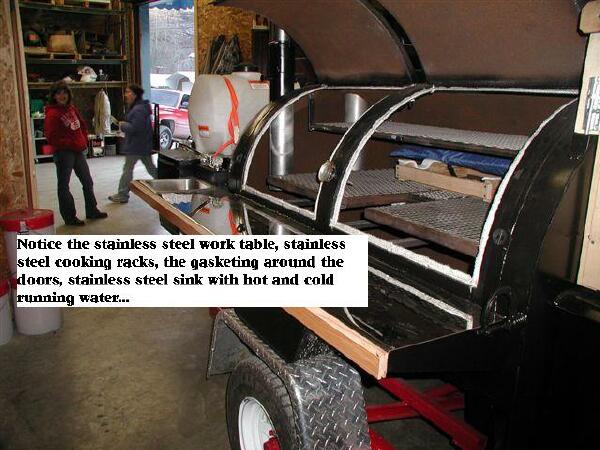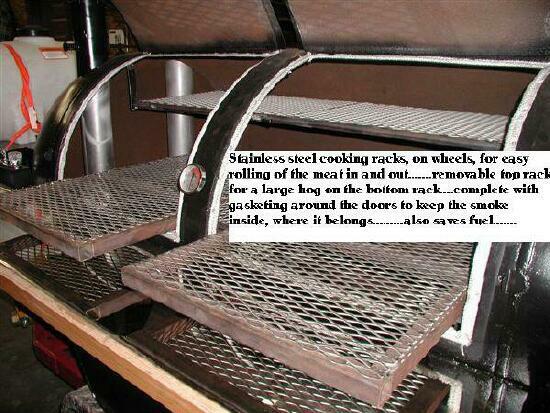 ---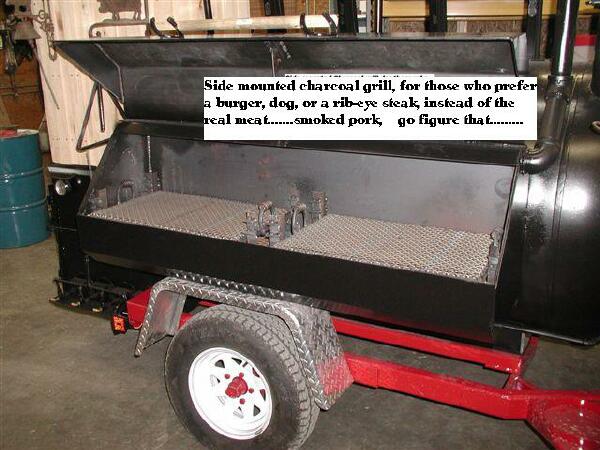 ---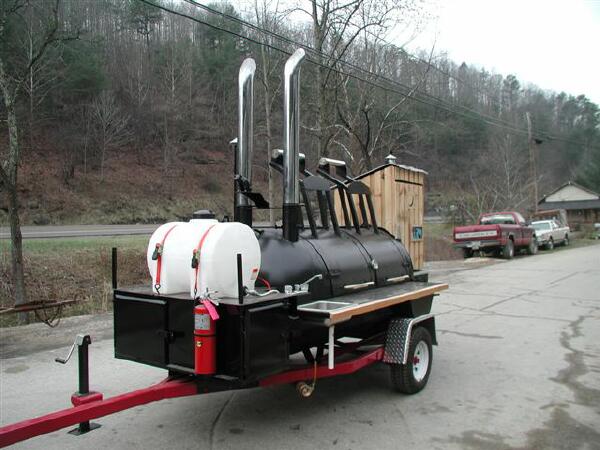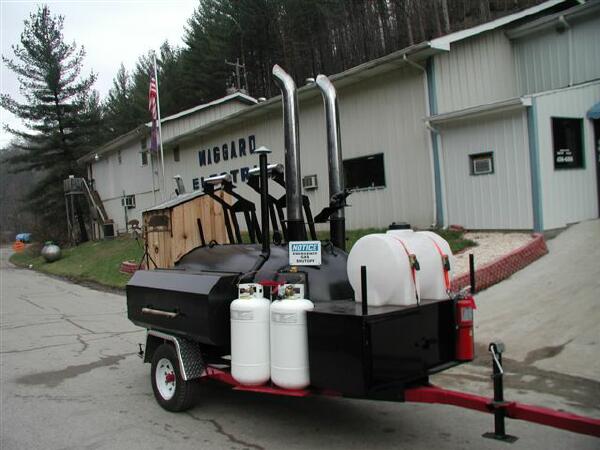 ---
CLICK HERE FOR PAGE 2 OF DOUG'S SMOKER
---
PHOTOS & TEXT ON PHOTOS: COPYRIGHT 2004, D. MAGGARD.
ALL RIGHTS RESERVED.
PAGE TEXT: COPYRIGHT 2004, J. M. JONES.
ALL RIGHTS RESERVED.
---